Simply Description
WG1608-5G is 5G CPE product for home use. It accesses the Internet through 5G mobile communication dial-up or 1000Mbps WAN port dial-up, and then shares the Internet network through wireless WiFi 5 and 1000Mbps wired LAN.

 
Product Feature
Support 802.11ac / 802.11a / 802.11n / 802.11g / 802.11b network protocol, the max transmission rate could be 1200Mbps(2.4G 300Mbps+ 5G 867Mbps)
5* 10/100/1000Mbps Auto MDI/MDIX LAN/WAN gigabit ports
1 USB 3.0 data interface
1 Micro TF Card Slot
Built-in USB3.0 MINI-PCIE interface to install 4G modules to support 3G & 4G functions.And also built-in USB3.0 M.2 interface to install 5G module to support3G& 4G&5G function.But can only choose one of two to install in side of router.
Support 11AC,dual band 2.4&5.8G.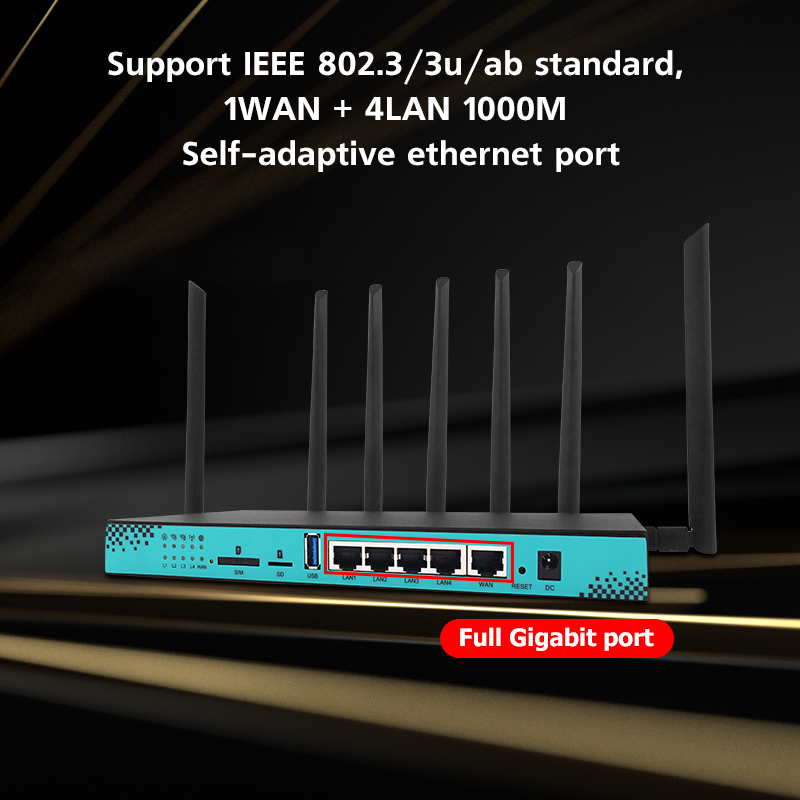 Specification
Hardware

Main Chipset

MT7621A (880MHz)

2.4G Chip set

MT7603EN

5.8G Chip set

MT7613AEN

RAM

DDR3 256MB (MAX DDR3 512MB)

 SPI FLASH

16MB (MAX 32MB)

Protocol

IEEE 802.11n,IEEE 802.11g,IEEE 802.11b,IEEE802.11ac,IEEE802.11a
IEEE 802.3,IEEE 802.3u

RT Power

11n:16dBm±1dBm11g: 16dBm±1dBm11b: 18dBm±1dBm11a: 18dBm±1dBm11ac: 17dBm±1dBm

Reception Sensitivity

11N HT20 MCS7: -70dBm11N HT40 MCS7: -68dBm11G 54Mbps: -72dBm11B 11Mbps: -85dBm11A 54Mbps: -72dBm11AC VHT20 MCS8: -65dBm

Work Channel

2.4GHz choose :1-135GHz choose :149,153,157,161,165

Wireless Rate

Max 1200Mbps

Work Frequency

2.4GHz, 5.8GHz

Antenna

2* 5dbi high-gain dual-band antennas; 4* 5dbi high-gain 5G antennas or 2* 5dbi high-gain 4G antennas, depend on the type of optional module.

Interface

Built-in 1* USB3.0 MINI-PCIE interface, 1* USB3.0 M.2 interface, MINI-PCIE and M.2 interface can only choose one.1 *SIM card slot1 *USB 3.0 port1 *Micro TF card slot1* DC interface

1 *10/100/1000M WAN port(Auto MDI/MDIX)
4 *10/100/1000M LAN port(Auto MDI/MDIX)

4G/5G

Support, but 4G module and 5G module can only choose one

LED

Power / 2.4G / 5.8G / 4G or 5G / external networkLAN1 / LAN2 / LAN3 / LAN4 / WAN

Button

Reset Button

Max Power consumption

< 20W

Dimension(L*W*H)

Product size:240MM*136MM*25MM